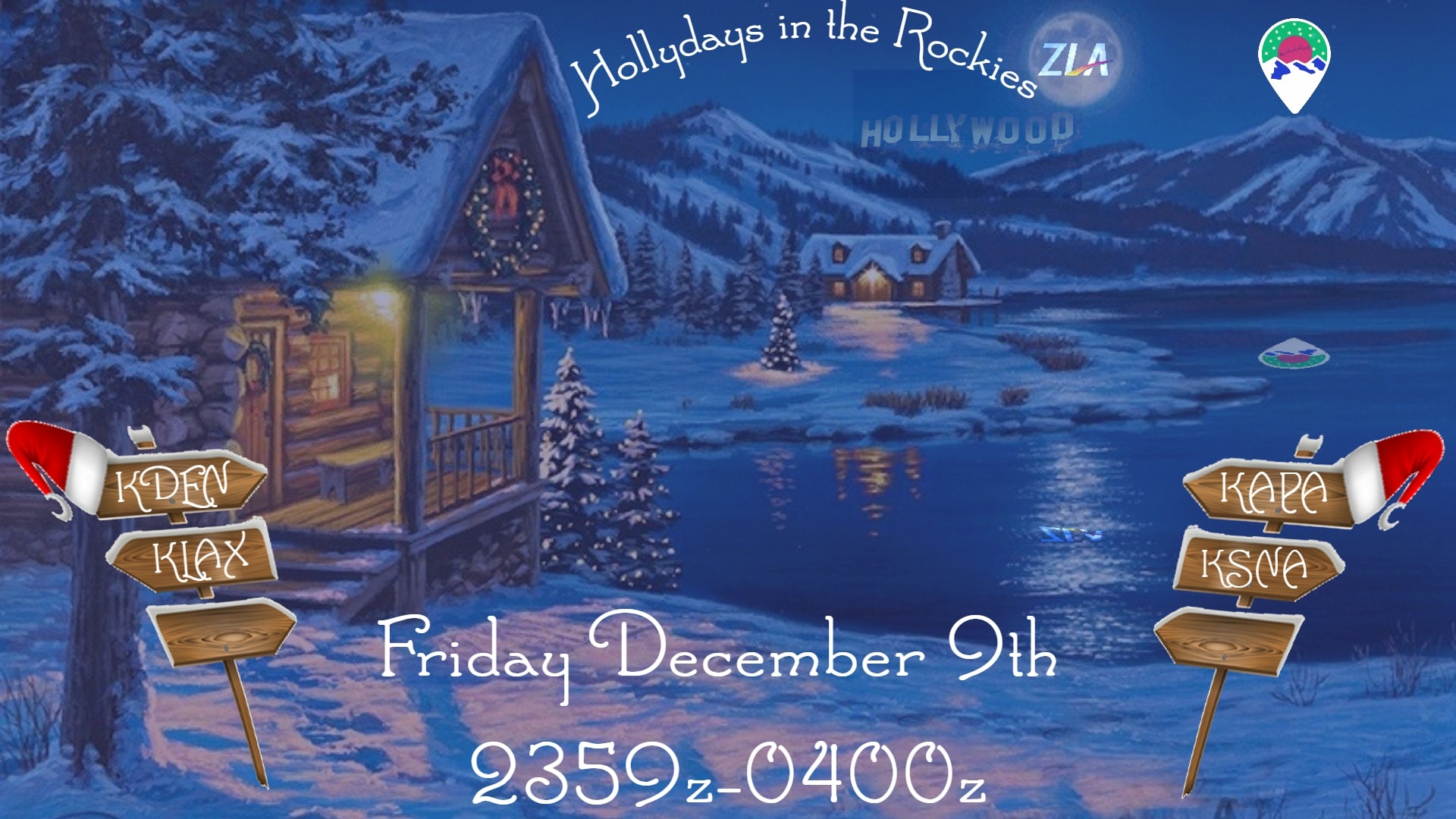 he Hollyday Season has come to the Rockies, and you know what that means, its time to fly. On Friday December 9th from 2359z-0400z, the bells will be ringing, The pilots will be singing, and the controllers will be thinking "Here we go again" cause ZDV and ZLA are staffing up KDEN,KLAX,KAPA and KSNA. It will be a night filled with ground stops, lots of traffic, and prizes. Yes you heard me right we will be handing out several prizes from our sponsors to some lucky winners. So clear your calendars, grab a warm glass of milk, and settle in for a long night of flying.
Event Fields: KDEN,KLAX,KAPA,KSNA
Date and Time: December 9th 2022, 2359-0400z
We would like to thank Vertical Sim,FlightFactor,Fenix,Aerosoft,and Laminar Research for sponsoring this giveaway. Without them this would not be possible. A detailed list of prizes and rules on how to enter the giveaway can be found below!
Giveaway Rules:https://docs.google.com/document/d/1akOVheNPtzsDvzkcWBqlAZobMXf1XFm_/edit?usp=sharing&ouid=108457282249888766217&rtpof=true&sd=true
Pilot Entry Form:https://docs.google.com/forms/d/e/1FAIpQLSfIvlQeVx4mC4RsA8TZEl2-nwPZ7Pr-Ng6x86Gyze8J9zq8QA/viewform
Prize List:https://docs.google.com/document/d/1heRhm3JxLOMTdtInPzLYtkhSOR6sBm0F/edit?usp=sharing&ouid=108457282249888766217&rtpof=true&sd=true
When:
09/12/2022 23:59 - 10/12/2022 04:00
Network:
VATSIM
Airports:
Denver International Airport (KDEN/DEN)
Los Angeles International Airport (KLAX/LAX)
Centennial Airport (KAPA/APA)
John Wayne Airport-Orange County Airport (KSNA/SNA)
Event added automatically from VATSIM Event Calendar. View original event post at
https://my.vatsim.net/events/hollydays-in-the-rockies